Eiffel, higher and higher – a travelling exhibition conceived and produced by Sav! The World Productions, on the esplanade of the Eiffel Tower July 11th till Dec. 31st 2023.
Although we all take the Eiffel Tower for granted today, we mustn't forget the major aesthetic and technological turning point it represented at the time, and the thousands of obstacles Gustave Eiffel had to overcome to build what would be his masterpiece, and defend it against opponents and rivals both at home and abroad.
Created by Savin Yeatman-Eiffel to commemorate the centenary of Eiffel's death, and designed by the artists of Sav! The World Productions under the art direction of Yukiko Yeatman-Eiffel, the exhibition Eiffel, higher and higher invites the public to explore the incredible race to build higher and higher in which Gustave Eiffel was the main contender, and rediscover his work in a brand new light.
The Parisian version of the exhibition was sponsored by, among others, the Société d'Exploitation de la Tour Eiffel (SETE), the townhall of Paris (Mairie de Paris), l'Association des Descendants (ADGE), the Fondation Société de la Tour Eiffel as well as UNESCO.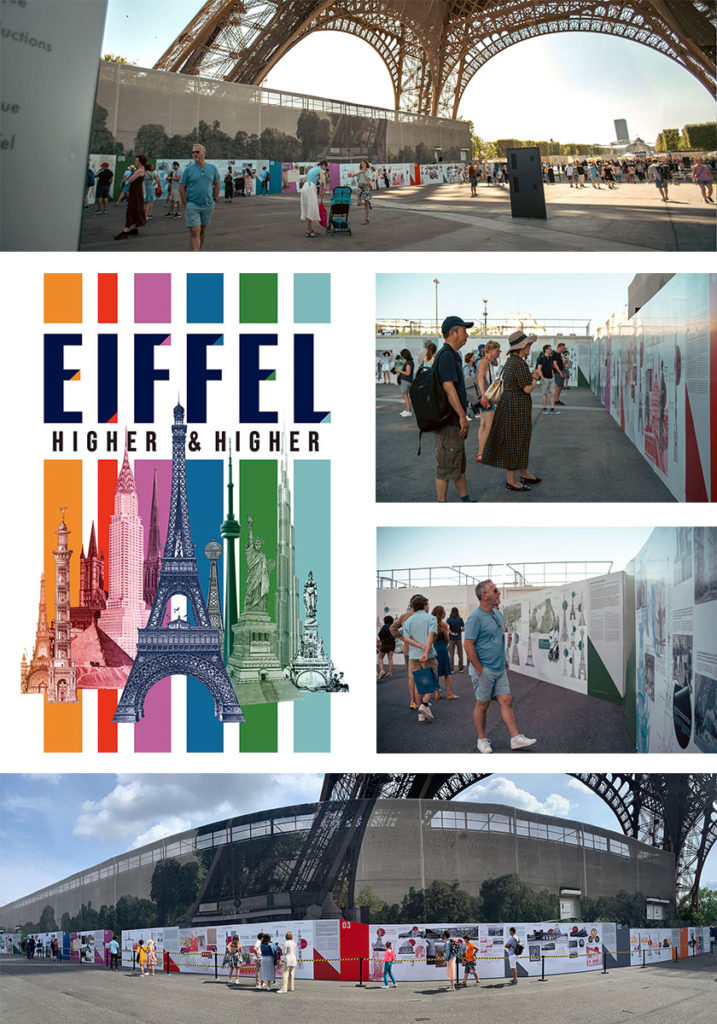 The iconography, some of which has never been displayed publicly before, was captured and reworked at Sav! The World in very high resolution to allow our artists to create very large and dynamic compositions, with the aim of pleasing both demanding audiences as well as the general public.
The exhibition is in free access on the esplanade of the Eiffel Tower, where a 70 m-long wall was built especially for the occasion, from July 11th 2023 till the end of the year. It is meant to travel also to different locations in France and abroad.